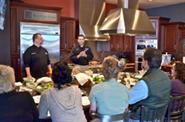 Receive a Cooking Class Punch
Card at your next class!
Enjoy 10 classes, receive 1 FREE!
Appetizers & Snacks
Entrees
Salads
Side Dishes
Desserts
Baking
Class Info
Class Fee:
$35 per participant or $60 for 2 participants unless noted otherwise. All paid cooking class participants receive a $25 store gift certificate valid on purchases of $100 or more, a copy of the class recipes and a great meal.
Reservations:
Deadline for reservations is 3 days prior to each class. Payment needed in order to make reservations. Without minimum, Clark reserves the right to cancel or reschedule any class.
Call (317) 863-0542 to make a reservation.
Cancellation Policy:
If you need to cancel or reschedule your class, you may do so as long as this is up to 72 hours before the class. Students are requested to notify Clark Appliance via e-mail or phone with your cancellation requests. Please let us know the date and class location, and if you wish to recieve store credit or reschedule your class.
If it is past the 72 hour mark and you find that you cannot attend (you may send someone in your place), you will recieve store credit.
Castleton, 317.863.0542
Send the chef a message, class idea or question.
chef@clarkappliance.com
ALL COOKING CLASSES TAKE PLACE IN OUR
CASTLETON SHOWROOM

DECEMBER

Bread Making Basics: The Power of Dough in YOUR hands!

Bread baking can be an intimidating endeavor. With two simple "No Knead" recipes, you will be able to put dozens of freahly baked break options on your family's tale with almost no active time in the kitchen. From the rustic peasant boule, to the decadent cinnamon roll, we will turn you into a baking rock star in a matter of hours.

Friday, December 5th, 6pm - 8pm

Far East Favorites: Build Your Own Chinese Take-Out

Everyone loves good Chinese take-out, but you can't help but wonder what exactly is in the dishes you are carrying home. This class features recipes and techniques to make Chinese take-out favorites like sweet and sour pork, egg drop soup, and crispy egg rolls from wholesome real ingredients.

Friday, December 12th, 6pm - 8pm

The Comforts of Home: Old School Down Home Favorites

This is the time of year to break out some hearty, soul-warming favorites. Fight the chill with Mom's chicken and dumplings, or maybe a bacon-wrapped meatloaf with magic gravy. Throw in a side of Chef Ben's silky Mac n' Cheese, or a bowl of steak chili and corn bread to keep winter at bay.

Friday, December 19th, 6pm - 8pm

DECEMBER

FREE CLASSES

Convection Class

Stop pushing the "Bake" button, and start getting the most out of your convection oven. Join us for a session designed specifically to de-mystify the secrets of convection cooking. Topics to include: knowing when your food is done, recipe conversions, time vs. internal temperature, and cooking modes to name a few. Come prepared with questions to share with the group!

Tuesday, December 2nd, 2:00pm - 4:00pm

Advantium Class

Take the mystique out of this versatile and unique oven. This free class is designed to answer any questions and challenges you may have as well as open up new and exciting possibilities that this oven offers. We will discuss both the 120 volt as well as the 240 volt models. This class is designed for those who have an Advantium as well as for those who would like to purchase one.

Come prepared with questions to share with the group!

Tuesday, December 9th, 2:00pm - 4:00pm


NOVEMBER

Reginal Street Food: East Coast Sandwiches

A new series focusing on regional Street Food. We will investigate authentic sandwiches from the Eastern United States. How about a classic Rhode Island Italian meatball grinder (a shipyard favorite), a sub sandwich, a New England lobster roll and of course the classic Philly.

Come discover the joy of a hand held traveling meal, theoretically anyway.

Friday, November 7th, 6pm - 8pm
Saturday, November 8th, 12pm - 2pm


Holiday Cookies and Sweets

Join us for a session designed for the holidays and friendly munching. Caramels, Fudge, Truffles, Oh My!! This class covers all of our favorites for the holiday. Oh yeah, maybe even caramel popcorn.

Holiday treats for all year and especially this season.

Friday, November 21st, 6pm - 8pm
Saturday, November 22nd, 12pm - 2pm

NOVEMBER

FREE CLASSES

Convection Class

Stop pushing the "Bake" button, and start getting the most out of your convection oven. Join us for a session designed specifically to de-mystify the secrets of convection cooking. Topics to include: knowing when your food is done, recipe conversions, time vs. internal temperature, and cooking modes to name a few. Come prepared with questions to share with the group!

Thursday, November 6th, 10am - 12pm

Advantium Class

Take the mystique out of this versatile and unique oven. This free class is designed to answer any questions and challenges you may have as well as open up new and exciting possibilities that this oven offers. We will discuss both the 120 volt as well as the 240 volt models. This class is designed for those who have an Advantium as well as for those who would like to purchase one.

Come prepared with questions to share with the group!

Thursday, November 20th, 10am - 12pm